Archives by date
You are browsing the site archives by date.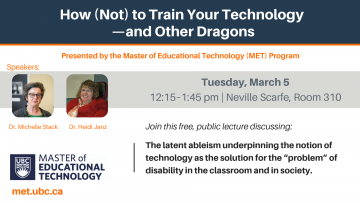 By Leah Macfadyen on February 28, 2019
Distinguished Visiting Lecturer Dr. Heidi Janz and UBC's Dr. Michelle Stack will give a public lecture on questions relating to technology, inclusion and ability in classrooms and in society on 5 March, 12:15-1:45, Scarfe 310, UBC Vancouver Campus. Visit this link to watch the live webcast. (A recording will be available for later viewing).
By Leah Macfadyen on February 11, 2019
Explore the pedagogies that support playing and making digital games for the classroom. Available for credit only | ETEC 565 S NOTE: This course is in the final stages of approval and should be confirmed to run by the end of January. In the unlikely event that it does not run, a note will appear […]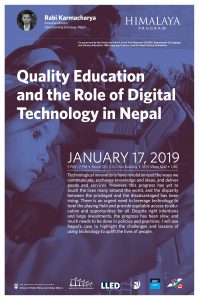 By Leah Macfadyen on January 7, 2019
This talk was co-sponsored with the UBC Himalaya Program, the UBC Centre for India & South Asia Research (CISAR), the Department of Language and Literacy Education (LLED), UBC Language Sciences, and the Nepal Library Foundation.  Technological innovations have revolutionized the ways we communicate, exchange knowledge and ideas, and deliver goods and services. However, this progress […]